Data Science Future is the new normal .  The  future is about Digitalization, the coming ERA will be fast & automated. The increasing new technology has the potential to change the way humanity lives has always created a huge amount of debate.
Automation threatens around 8 million jobs by the end of 2030 but at the same time technology is all set to create more jobs than ever. Artificial Intelligence is not purely destructive. According to some reports "New jobs will be created, existing roles will be re-built, and switching careers will be a great opportunity"
Data Science Future Industry Trends 
"The rise of Data Science needs will create roughly 11.5 million job openings by 2026"   US Bureau of Labour statistics
"By 2022, Data Scientists and Analysts will become the number one emerging role in the world."   World Economic Forum
Data Science and Artificial Intelligence are amongst the hottest fields of the 21st century that will impact all segments of daily life by 2025, from transport and logistics to healthcare and customer service.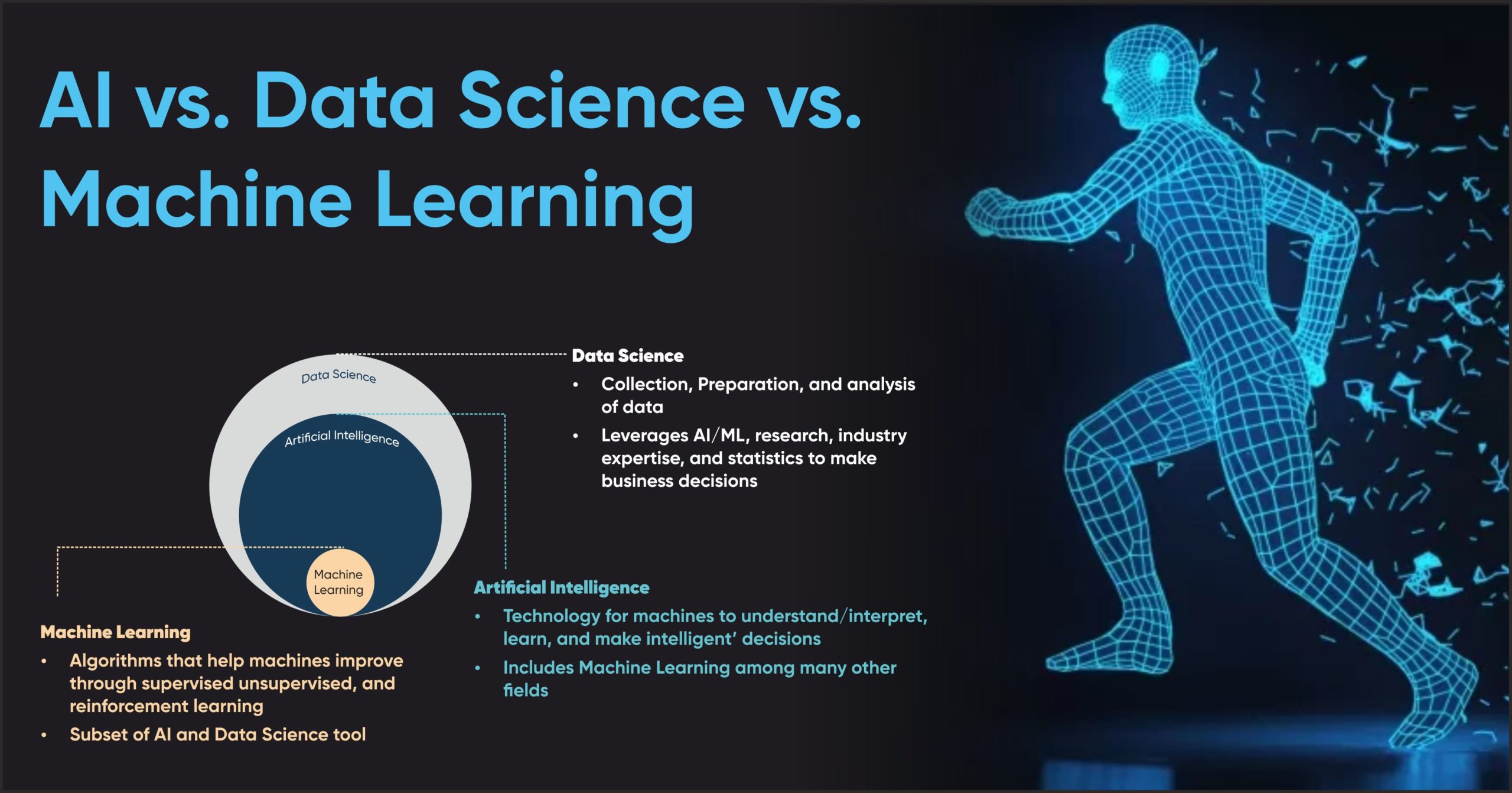 Data Science Future : Artificial Intelligence & Machine Learning as Career
AI & ML stands for Artificial Intelligence & Machine Learning, in the coming decades AI is seen as a promising field.  AI is how we make intelligent machines. Al is the software that learns similar to how humans learn, mimicking human learning.
It can take over some of our jobs for us and do other jobs better and faster than we humans ever could. Machine learning is a substitute of AI, so sometimes when we're describing AI, we're describing machine learning, which is the process by which AI learns.
With increasing demands of technology and Robotics and to meet the demands of creating a human interface while operating various applications, Engineers and Technicians working in the field of Artificial Intelligence will reach new heights. In the coming years, with the digitalization of the world and rapid development of technology and industry, AI and its associated branches promise a fulfilling future.
Data Science Future: Artificial Intelligence & Machine Learning is the new future
Programming Languages- A great understanding of programming languages such as Python and SQL are important prerequisites for a prospective job in the field of Data Analysis and AI & ML. The programs make it possible to create an effective human interface in order to make the application more user- friendly and defined. Therefore, some prerequisite knowledge of programming languages acts as a bonus point in this respect.
Quality Analysis- Some basic understanding of quality analysis is an important prerequisite in this field. The Analyst must possess a working knowledge of how to analyze and enhance the quality of the analyzed data. One must always work in order to improve the quality of the data and work dedicatedly in order to predict an efficient model for the same.
Statistics and Programming Language- Analysts must expect to engage in intensive programming in different languages and work efficiently in dealing with huge amount of statistical unstructured data, study of which will help in predicting unseen patterns and analyzing the risk and results of the same. A vivid understanding of the same enhances both technical and non- technical skills of the person.
Data Science Future Job Prospects
Career Opportunities in Artificial Intelligence:
Artificial Intelligence & Machine Learning Salary Approximation
There is a wide variety of job roles in Artificial Intelligence & similar domain. When it comes to Artificial Intelligence Career scope in India, an entry-level professional of Artificial Intelligence can earn around INR 6, 00,000 per annum.
Also the mid-level and senior-level Artificial Intelligence salaries can exceed INR 50,00,000 in India, depending on the profitability of the business.
AI is still an evolving and emerging technology that requires a professional skill set. Rise in demand, there is an evident shortage of talented professionals in Data Science (AI and ML) who can leverage these job vacancies.AI professionals in the field has affected the salary range for AI jobs in India positively. The wages in the field is directly proportional to the skill and experience of the job applicants.
Data Analysis As Career
Every entity today is hiring data analysts to make sense of the growing amount and range of data they generate and collect through their work & deliverables. A key business skill is wringing actionable answers out of data. All types of organizations collect big data and intend  to use it to make or improvise their future  decisions.
B2B and B2C commerce, health care, manufacturing, and marketing all use data analytics to grow processes and increase profits.
Data Analysts, organize and interpret the unseen patterns and work to form a predictive model to boost revenue. The analysts were formerly statisticians and data analysts. When organizations realized the virtual gold mine that unstructured data contained, structuring and re-organizing this data became a technique to boost revenue, the study of unstructured data and identification of inherent patterns helped in making predictive models to yield better results.
Skills Required to be Part of Data Science Future Jobs
Data Visualization – One of the most essential prerequisite skills to be  Data Analyst is the ability of Data Visualization. This skill helps an individual to foresee probable and potential patterns and work in deriving a solution in one single direction. Awareness and former knowledge of research also enhances and helps an analyst to efficiently work and predict results and outcomes.
Mathematics and Statistics- A prospective Analyst must possess a thorough and deep knowledge of the disciplines of Mathematics and Statistics. Statistical analysis and interpretation is a major aspect of Data Sciences. A working knowledge of these improves and enhances the efficiency and work of a Data Analysts and programmers who work in the field of AI & ML
Communication and Collaborating – Analysts must expect to communicate and collaborate with various departments and organizations, that will help them gain better understanding of the data and enhance their understanding in order to devise a better and efficient predictive model.
Analytical Techniques- Individuals must possess exceptional analytical techniques and skills in order to predict, interpret and reinterpret the patterns and meanings of the large amount of unstructured data. It is precisely their analytical techniques and logical thinking capabilities that make them quick and efficient in their work, giving exceptional results in the form of risk models and predictive models.
Job Prospects & Average Salary Of Data Analyst
Almost all AI & ML job profiles like Engineers and Data Scientists are earning lucrative salaries from start-ups and established businesses alike. As the given skills will be key drivers in almost every segment.
Demand for Machine Learning professionals is high & rising in India, and several companies are looking for professionals with these valuable skill sets. It includes the factors like: nature of the business, the candidate's experience in Machine Learning, and their skill set matter when it comes to deciding the salary of an ML professional.
High demand but limited availability of skilled Machine Learning professionals has spiked the Machine Learning scope in India, which in turn, spiked the salary as well.
The Machine Learning salary in India for freshers is approximately INR 686,281 per year, including bonuses and other benefits. For a mid-level ML professional, the salary is around INR 1,142,459. In the end, candidates who work on building experience bag higher pay packages than their counterparts.
In the coming times, Data Analysts are employed by different companies and MNCs, under many designations, some of which are Quantitative Analysts, Operation Analysts, Marketing Analysts and many more. A report by glass door shows that Data scientists lead the pack for the best jobs in America.
Data Analysis became one of the most high-in-demand jobs around the world. As a result, Data Analyst salary in India is significantly higher than other software related professionals.
Data Science Future Career Jobs & Growth
A Data Scientist is a diversified field & holds expertise in many areas at his/her workplace. Not only are Data Scientists responsible for analytics, they are also involved in building data products , data structures,  data experiments  and software platforms, along with developing Visualization and machine learning algorithms.
Few famous jobs are as follows:
Data Scientist
Data Architect
Data Administrator
Data Analyst
Business Analyst
Data/Analytics Manager
Business Intelligence Manager
Learn with Artificial Intelligence, Machine Learning & Data Analysis Courses by LNCTU:
Numerous benefits of learning AI these days open up doors to ample AI career opportunities. India's trusted online higher education institute LNCTU  has come up with its own courses that deal with AI. We offer several Courses in Artificial Intelligence, Machine Learning & Data Analysis.
BCA(AIML) MCA (Data Science & Visualization)