Growth of Aspirants in Agricultural fields; students see immense scope of B. Sc Agriculture in India & in Abroad.
 Agriculture is the primary sector of employment for more than 50% of the native Indians. A great number of people employ themselves in agriculture, horticulture, forestry and livestock farming. It is the bread and butter and backbone for other secondary and tertiary sectors as well.
A great number of farm produces, is exported from India that contributes generously to the GDP of the country. Apart from this, the farm produces staple foods that are used as raw materials by a variety of industries that then process it into finished goods that are consumer friendly and more acceptable, for instance, cookies, bread, refrigerated good etc.
The advancements in technology are now aiming to revolutionize this field of Agriculture, where scientists and researchers are continuously working to derive new methods and ways to increase the surplus food production, so as to meet the growing demand of the world.
To assist this advancement, many Institutes have recognized the need for experts in the field, and have started offering various diplomas, degrees and certificate courses.
Specializations in the field of agriculture like, B.Sc. (Hons) in Agriculture, B.Tech in Agriculture, M.Sc. in Agriculture and various different branches of Agronomy, equip individuals with a deep understanding of the plant and animal lives, and most importantly how to use the available resources in increasing production.
Agriculture is an umbrella term that constitutes within itself the fields of forestry, fishery, animal husbandry and horticulture. The experts educate themselves in the aforementioned fields and gain knowledge regarding the most intricate details concerning these fields.
This specialization enables people to work in close communion with the nature and environment. Experts are majorly concerned with developing new technology and techniques that will increase the production of food.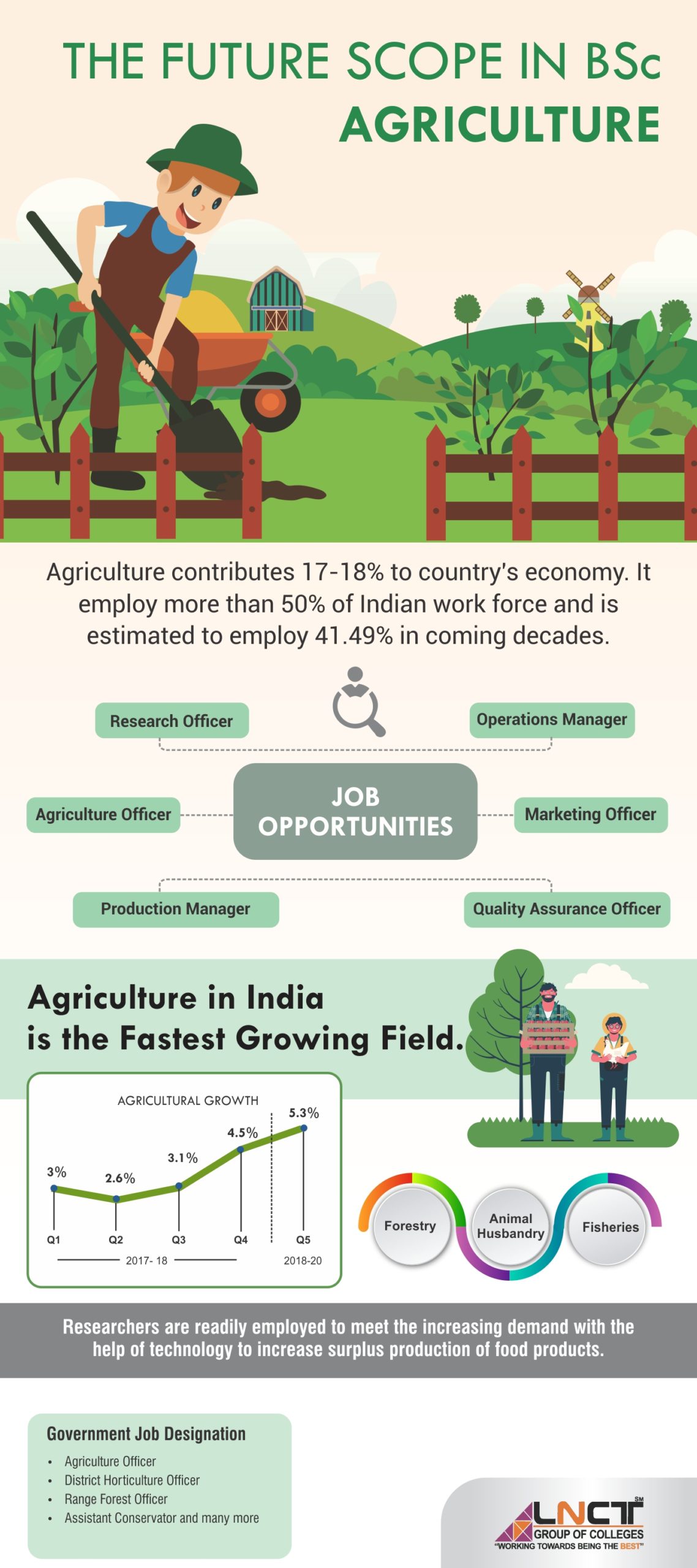 A great number of job opportunities and career options are available for individuals who hold expertise in this field. Professionals, who possess a thorough knowledge of plants and animals, are readily recruited by both the private and public sectors.
Departments concerning management and sales, too recruit skilled individuals who then use their expertise in order to enhance production and sales.
The following table gives a brief description of the concerned job opportunities and profiles that are can be acclaimed in the agriculture sector.
Food Scientist
Being a food scientist is one of the most commonly sought professions in the agriculture sector. The primary responsibility is to gather information about the nutritional value of the content and the processed items as well as ensure that all the safety measures are followed in its production and packaging.

Aspirants, who possess an active enthusiasm to know about the calories in a food item and its nutritional content, can choose to be a food scientist.

Production and packaging firms are always in search of expert food scientists. Experts can find employment in both the public and private sectors.

Agricultural Operations Managers
Agricultural Operational Manager primarily deals in the efficient working and management of big agricultural businesses like mills and grain manufacturers.

They ensure that the business runs efficiently and smoothly without any delay and error.

Some of the essential prerequisite of the same involve basic agriculture based knowledge along with exceptional communication and organizational skills.

Agricultural Engineer
Agricultural Engineers essentially deal with the making and manufacturing of machines that will primarily help humans in working on the farms and reduce the work of labor.

It involves designing, manufacturing and improvising the existing technologies.

These engineers prove to be a great asset and are actively sought by both the public and private sectors.

Animal Geneticist
These experts deal with the health of animals and determine through observation and research what makes them weak and what makes them strong.

They identify the genetic makeup of farm animals and indulge in cross breeding so as to produce a better and disease-resistant hybrid.

For individuals who like to experiment, this can be one of the most tempting and promising jobs.

These researchers eventually help in saving the endangered species and increasing the chance of survival of many others.

Environmental Engineer
By combing the existing principles of the different fields of study, environmental engineers aim to create a variety of systems that will deal with major issues like deforestation, mass destruction of natural resources, soil erosion etc.

For someone who likes to help the farmers and actively engage in devising new methods of saving nature, this could be one of the best professions.

Biochemist
A biochemist actively analyzes and studies the different living organisms in order to devise new and innovative ways to develop new crops that can bear extreme conditions like shortage of water or draught.

Biochemist is primarily indulged in research, but it is this research that helps in the increased production of surplus food.

Agricultural Economist
An Agricultural Economist works as a business advisor and consultant.

He or she overlooks the economical aspects of the farm produce and the profit or loss the business bears due to it.

An agriculture economist must possess a thorough and working knowledge of economics along with concepts related to market analysis.

This job asks for multitasking skills and management skills so as to look over the overall business of the firm concerned.

Bioinformatics Scientist
A Bioinformatics Scientist keeps a record of the widely diverse animal and plant life, by gathering and regularly updating information of the same.

With the advancement of science and technology, the system has now become more efficient.

Scientists actively store data in computer systems and rely on the algorithm.

The knowledge of plants and animal life is crucial in the agricultural sector which eventually helps in increasing farm produce.
Apart from the above mentioned job profiles, experts in the field of agriculture are employed as Forest Managers, Agronomist, Agricultural Inspector, Agricultural Specialist, Aquatic Ecologist and many more.
With the advancement of technology, the sector of Agriculture too is set to boost and create a wide range of jobs as mentioned above.
Aspirants who possess an affinity towards forests, agriculture, marine life and the prospect of working in close contact with nature must be encouraged to pursue their graduation and post graduation in the field.
Specialization in the field of agriculture will surely promise a fulfilling and satisfying career in the coming years.
In order to meet the increasing food demand of the population of the world, many new jobs are being created in the agriculture sector. Experts in Botany hold great expertise and prove to be a great asset in this field.
Moreover, regarding the concerns of environmental pollution, scientists are actively finding alternatives to the pesticides and insecticides currently in use in order to replace them with better eco-friendly and sustainable bio-fuels.
This requires a thorough and working knowledge of chemistry involved and awareness about the applicability, sustainability and creation of user friendly products.
Apart from the awareness regarding chemicals, experts form opinion on the types of soil in use, the manures and fertilizers used, fields concerning fisheries and animal husbandry and more. Animals are mainly reared to produce milk and meat.
Experts are actively devising organic and eco-friendly ways in order to achieve this. The use of organic ways, deem the farm produce fit for human consumption, it makes it extremely healthy and more nutritious.
Scientists and researchers are consistently working in this direction, in order to enhance the surplus production of the farm produce.
And with the rapid growth in technology, the field of agriculture is set to boost and create a great number of job opportunities in the coming future, providing individuals with fulfilling career opportunities and satisfying jobs, with the prospect of working closely with nature.